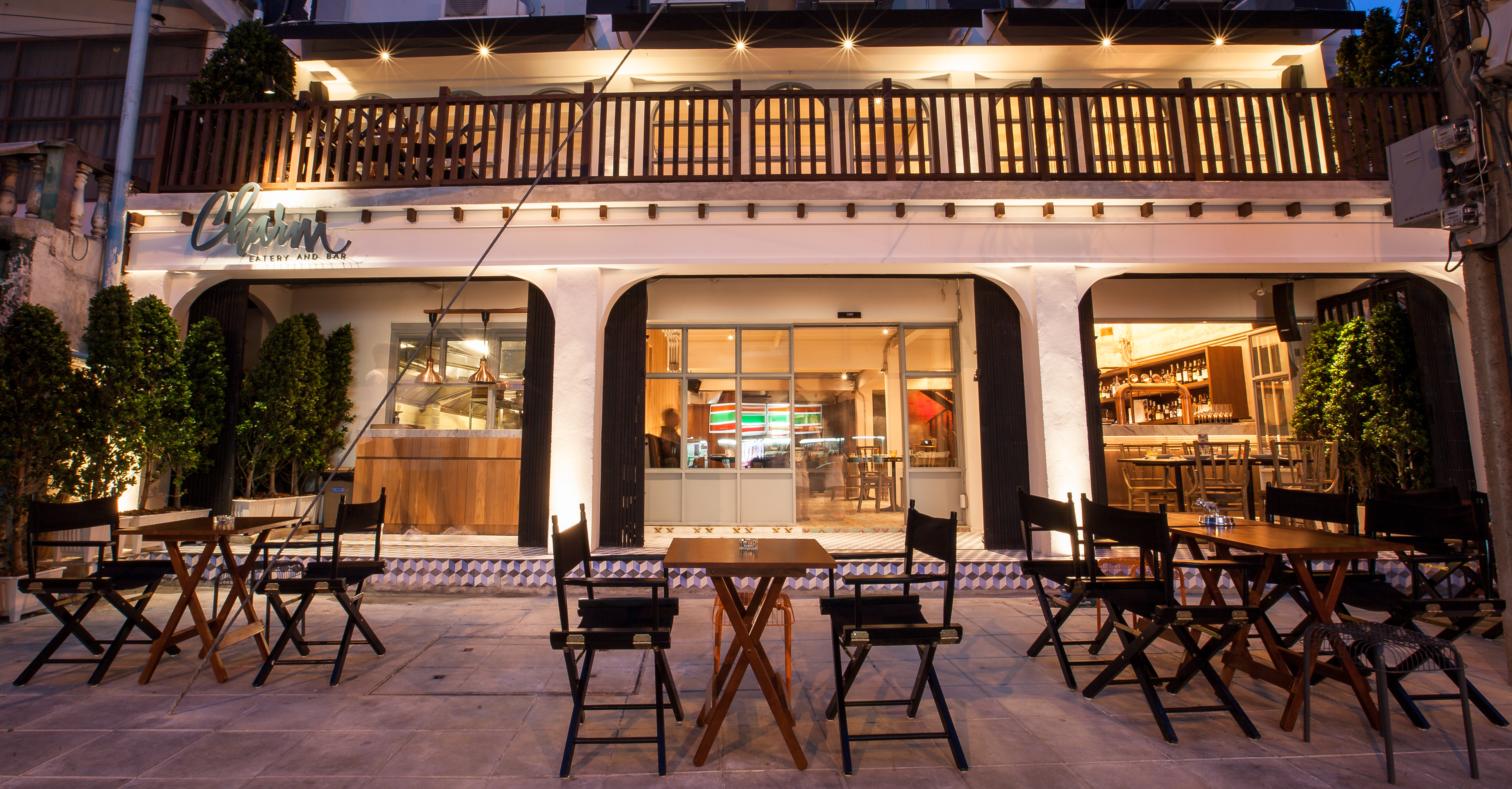 It all started when a couple of friends, Art, Ekasit Mongkolkiti, the owner of well know bar and restaurant, Aroi Di Mee Hang, together with Chef Pin, Rompho Phothisoontorn, the chef owner of Mazzaro Restaurant, were looking for a place to hangout and realized that there were not so many bar with an easy-eating menu and drinks suitable for a friend gathering or after work chill out with the nice live bands. With their past in restaurant know-how, they start to build the place to satisfied their own need!!
Charm Eatery and Bar, located in the heart of Sathorn 10-12, presents authentic Thai food inspired by the chef's childhood meals with tasteful classics. The homemade condiments and chili pastes, with fine selections of ingredients give the dishes such as:
'Yum Som-O', mild spicy pomelo salad with shrimp
'Khao Pad Pla Too', fried rice with mackerel
'Nua Poo Phad Prik Kee Nhoo', stir fried jumbo lump crab with yellow chili
'Pad Sam Mhen', stir fried glass noodle with acacia, southern wild bean, garlic pickle and
shrimp, a uniquely vibrant flavor.
Charm Eatery and Bar also has a variety of western food with a Thai twist that was inspired by the chef's Thai favorites such as:
'Krapow Pizza', chili basil pizza,
'Pasta Pla-Salid', crispy siam gourami pasta.
'Pasta Kee Mao Ta-lae', pasta with this herbal and chili sauce with seafoods
The cocktails have also been inspired from the bartender's younger years:

'Mama Old Fashion', inspired by her mother that always gave Thai herbs
syrup when she was sick
'Som-Sri', the refreshing cocktail served with aloe-vera espuma.
Charm Eatery and bar also offers a variety of classic cocktails, whiskey, spirit, draught beer and wine.
The restaurant interior was designed to give off a relaxing vibe for our customers feel more like home with a 'Thai colonial contemporary' design with live music everyday by our house bands together with well known artist such as Tookta Jamaporn (Monday) and Nut Kridsada (Thursday) from The Voice Thailand.
Charm Eatery and Bar is now open in Bophut (next to the entrance of Big Buddha Temple). From Bangkok to Koh Samui, we offer the same menu and variety of drinks while enjoy the scenic view of Bangrak Beach.